很多在外企或者从事英文工作的童鞋一动都很需要一篇英文的辞职信,辞职信在外企或者合资企业是很重要和常见的。今天出国留学网的小编就给大家带来几篇优秀的经典英文辞职信,希望给大家提供一定的帮助,并且得到大家的喜爱。更多精彩内容请访问出国留学网(m.liuxue86.com)
  经典英文辞职信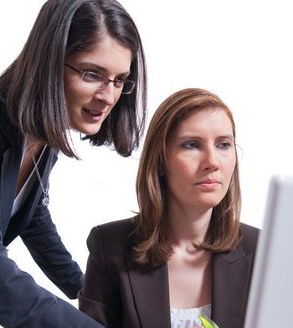 篇一 联想中国区总裁的辞职信
  I want to share with you some difficult news about my future plans. Later today, I will announce that I have resigned from Microsoft and will be taking a position in a different filed. It is not without a heavy heart that I contemplateleaving the incredible work and extraordinary people that I have been privileged to encounter during my four years at Microsoft.
  Together, we have accomplished what some might have thought could not be done. In a few short years, we have defined a clear and stable strategic framework for Microsoft's business in the Greater China region. We have nearly doubled sales and have broken through the $1 billion mark in revenue in GCR. In China itself, we have tripled our sales in the last three years. Including those of covered OEMs, and we are posed to hit $ 1 billion in FY08. we have reduced the UPC rate by more than 20%. We have added hundreds of new people and expanded our operations to more than 15 locations across the region. We have strengthened our customer and partner relationships and transformed the way people view Microsoft, not just locally but all around the globe as well.
  Most importantly, we've been able to use our technology to help improve the lives and livelihood of millions of people throughout the Greater China region. I have learned from each of you along the way and you have made my experience at Microsoft one that I will never forget.
  While change always comes with its share of unknowns, there is one thing that I have absolutely no question about, and that is this organization's ability to continue the great work that we've begun. We have a well-thought our transltion plan in place and some of the finest leadership in the team and in our strategy with the Big Rocks plan in place. I have no doubt that in the very near future, Microsoft Greater China region will no longer be talking about breaking through the $1 billion but about the $5 billion mark. J
  At 4 PM today, we will have an all-hands meeting in the Millennium Building to discuss my plans and the transition in more detail. In the meantime, I'd like to express my deep thanks to every one of you in the Microsoft Greater China region for your hard work and for your contribution to our continued success.
  Tim Chen
  篇二
  Dear______
  Effective October 1, I will assume the position of director of human resources for XXX, Inc., in Baton Rouge. Therefore, please accept my resignation as benefits and compensation coordinator of the Human Resources Department within AAA Associates, effective September 30.
  The decision was a difficult one for me BECause I have so enjoyed my working relationships here. The job description has given me GREat latitude in assisting other coordinators within the human resource area, and as a result, I've gained skills in several related fields. These cross-training opportunities have been invaluable, and in a much more formal, classroom setting, I've been able to take advantage of classes in management, interpersonal skills, writing, and oral presentations. All of this training has been a worthwhile effort for both AAA (company) and me.
  As I go to the new position, I'll do so with the utmost respect for the management examples and philosophies learned here and with gratitude for the personal attention to my career growth.
  Thank you for the rewarding experience I've enjoyed during my seven-year association with the organization.更多英文辞职信请访问出国留学网辞职报告频道
  Sincerely,
  liuxue86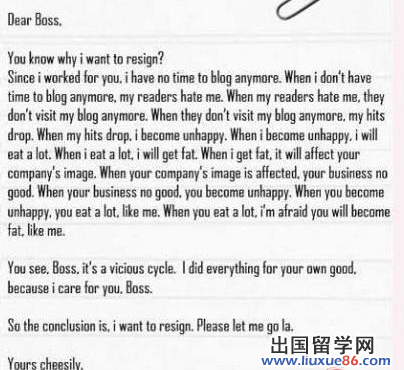 篇三
  Dear Mr.______
  Please accept my resignation as associate chemist at the GERT Institute. I plan to leave my job here on September 30, 19–, taking a few days of annual leave just prior to that effective date.
  As you know, my primary interest has been in the oil and gas industry. Therefore, I've accepted a position with Fury Refining, Inc., that should put me back in touch with my "first love."
  Although I'm eager to accept the challenges in this new position, I reGREt leaving the institute. You and the organization as a whole have treated me very well over the past three years. I won't forget the friendship and professional growth I've experienced as an employee here.
  Best wishes to all of you for years of expansion here.
  Sincerely,
  liuxue86
  篇四
  Dear
  I am offering my resignation as operations manager of the XXX plant, effective May 15. As of now, I'm not quite sure where I'll be looking for employment and am toying with the idea of turning one of my life-long hobbies into a profit-making enterprise.
  Frankly, Vernon, I was deeply disappointed the vacancy of general manager was filled by someone from outside the company. Through years of excellent performance appraisals, I was led to believe I was in line for that position. Under the circumstances, I think you'll understand my decision to resign.
  I do appreciate the management training I've been given here; it has indeed prepared me well for almost any general business career I decide to pursue. My best wishes for the company's continued growth.
  Sincerely,
  liuxue86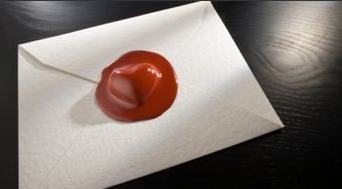 篇五 乔布斯的苹果辞职信
  I have always said if there ever came a day when I could no longer meet my duties and expectations as Apple's CEO, I would be the first to let you know.
  Unfortunately, that day has come.
  I hereby resign as CEO of Apple. I would like to serve, if the Board sees fit, as Chairman of the Board, director and Apple employee.As far as my successor goes, I strongly recommend that we execute our succession plan and name Tim Cook as CEO of Apple.
  I believe Apple's brightest and most innovative days are ahead of it . And I look forward to watching and contributing to its success in a new role.I have made some of the best friends of my life at Apple, and I thank you all for the many years of being able to work alongside you.
  篇六
  TO:
  FROM:
  DATE:
  SUBJECT: Resignation
  Please accept my resignation as Associate Chemist at XXX Research, Inc.; my last day will be August 15, 19–.
  While enjoying assigned projects and contributing to the company's overall growth, I feel my work tasks here have not allowed me to investigate projects in which I developed a keen interest during my graduate studies. Therefore, I have accepted a position more in line with those interests at Meadows Chemical Company.
  This decision has been difficult due to the rewarding relationships developed during the past three years. Please accept my thanks for your unquestionable support and leadership here at XXX Inc..
  以上内容由出国留学网提供,如果您觉得本站的信息还不能完美解决您的问题,可以联系我们,联系地址:[email protected],我们将在第一时间内为您解答。
  小编特别推荐